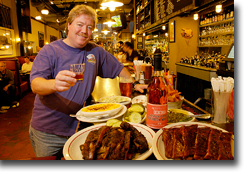 Kenny Callaghan, pitmaster and co-owner of Blue Smoke BBQ in NYC, was a classically trained chef who honed his skills in the kitchens of places like The Helmsley Palace Hotel, the Russian Tea Room and Union Square Cafe before opening a BBQ restaurant. His culinary background is evident on the eclectic offerings that can be found on the Blue Smoke menu. "The core of my business is BBQ - Great BBQ - and then I wanna surround that with great vegetables, great salads and great fish dishes," Callaghan said. "I just want to offer a variety of different options for people to explore - and I think that's one of the reasons we're so successful here"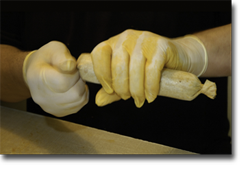 Joe McClard originally concocted the hot tamale plate as a way to punish a dishwasher who came to work with a hangover one time too many. He thought it might make the worker go home, but instead, he loved it. And when he ate it at the counter, customers started asking for the same thing. Now the dish, which consists of tamales, fritos, beans, bbq beef, sauce, onions and cheese, is one of the most popular items on the menu.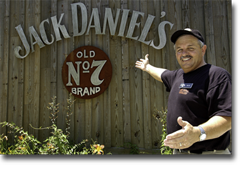 Visitors to the Jack Daniel's Distillery in Lynchburg, TN, can go up to BBQ Hill on Fridays and Saturdays from May through September to enjoy some old-time barbecue, some local music and a sweeping view of the Jack Daniel's Hollow. "Barbecue is Americana and Jack Daniel's is Americana," said Tana Shupe, manager of guest services and events for Jack Daniel Distillery. "We have to do the Jack Daniel's low and slow. There's no way we can rush our process, and with barbecue, we think it's the same way," she added. "To do barbecue, you're going to almost have to do it very low and very slow to keep it moist and to get that smoky flavor in there."

The Moonlite Bar-B-Q Inn of Owensboro, KY is famous for it's extensive buffet and its barbequed mutton. "We probably serve more mutton than any place in the United States," said Moonlite co-owner Ken Bosley. Davis County has a long tradition of barbequing mutton with church picnics serving up barbequed mutton almost every weekend during the summer. Bosley said he encourages customers at the Moonlite to try the mutton. "We tell them look, you're in the only place you'll be able to get mutton in the whole country. You oughta try it because that's something you can't get no where else. And we get a lot of converts," he added.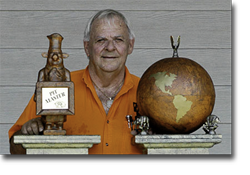 Mike Mills recalls his experience at the 1990 Memphis in May Barbecue Competition where he won the first of his three Grand Championships. "This was just our fourth barbecue competition," Mills said. "We pulled in and saw all these fancy rigs and barbecue pits and we just had a little 10 x 10 tent and a 50-gallon drum. We didn't think we belonged," he added. "We were scared to death. It wouldn't have taken much for us to pack up and go home."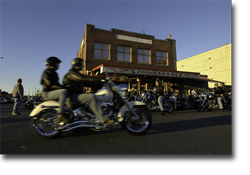 The Dinosaur BBQ, home to world-class bbq and blues, started in Syracuse, NY in 1988 and has since opened up restaurants in Rochester and Harlem. Co-owner and original pitmaster John Stage says he believes bbq is the most difficult type of restaurant business. "Barbecue ain't easy, It will kick your ass sometimes and it will humble you," Stage said. "You never want to think you know it all, because that's when you're done. I know more about barbecue now than I did ten years ago, and I'll know more about it in ten years than I do now. And that's a beautiful thing."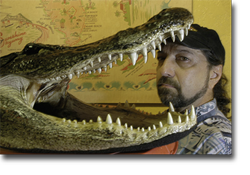 "Downhome cooking with a Florida flavor is the whole theme of our restaurant and bar," said Carl Pacillo, owner and chef of Alligator Alley restaurant and bar located in Ft. Lauderdale. One of the more unusual items on the menu is barbecued alligator ribs. "The ribs are unique, the ribs are unusual," he said. "Gator ribs have kind of a natural swampiness, y'know. You can taste nature in it." Pacillo, a well known local musician also known as Kilmo, said his goal is to promote and serve up local flavor with both the food and the music he offers. "I'm just trying to embrace this local culture that I love. It's the real Florida, the one I grew up in."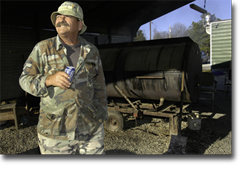 Brice and Ray Cannon learned to barbecue from their daddy and they continue the tradition of the style of bbq common to the Dutch Fork area of South Carolina. "We do it the old fashioned way," Brice Cannon said. "We do it with all wood. I don't know how to cook with gas and I don't wanna learn," At their restaurant in Little Mountain, SC, Wednesdays often seem more like a family gathering than a business as the brothers are joined by friends and family who help them prepare. "Volunteers, all volunteers," Brice said. "The more they eat and the more they drink, the more they get paid."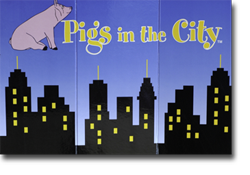 The Lexington area is the home to about 21 bbq restaurants (or stands as they're often called in that area), and with a population of about 21,000 people, that's 1 bbq stand for every 1,000 people - "That's a pretty good ratio" said Mayor Richard Thomas. When people talk about Western North Carolina style barbecue, they are talking about Lexington style Barbecue - Pork shoulders cooked for long hours over wood (usually hickory).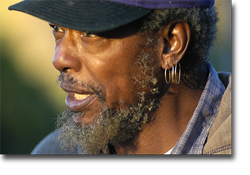 Curtis Tuff has been cooking and serving up BBQ in Putney Vermont since 1965. "After 39 years I'm starting to get the hang of it," Curtis joked. "another five more years and I should have it down pretty good," he added. Curtis said the part of his business he most enjoys is being able to meet and talk with his customers. Curtis, along with his pet pot-bellied pig C.J. are known to people from all over the country who make his barbecue a regular stop when they visit Vermont between April and October, the months they are open for business.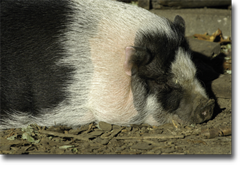 C.J. the pot-bellied pig entertains visitors young and old who come to Curtis' Barbecue in Putney, Vermont. But Curtis points out that the good-natured pig also has another important role. "He's my supervisor," Curtis said. "He makes sure I'm doing a good job." This is the second pot bellied pig that Curtis has had for a pet. "The first one, Isabelle was 250 pounds," he said. "C.J.'s only about 80 pounds. But he's a good little guy"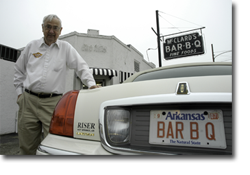 McClard's BAR-B-Q in Hot Springs, Arkansas began in 1928 and has remained a family business ever since. Scott McClard, the 4th generation of the family to work at the restaurant, said they take pride in following the same principles began by his great-grandfather. "Use the best ingredients you can get, buy the best quality cuts you can get, and don't skimp on any portions." They make their side dishes on the premises every day, using the same recipes his great-grandfather used. "You can't buy this stuff off of a truck. You can't take beans out of a can and make it taste like my great-grandfather's recipe."

In 1928, Alex and Alice McClard ran a tourist court, which also had a gas station and a diner that served up barbecued goat. When a traveler stayed with them and couldn't pay his bill, he offered up a secret recipe for "the world's greatest hot sauce" They took the recipe and played with it and soon the barbecue business became bigger than the tourist court or the gas station. That was the beginning of a family business now in its fourth generation.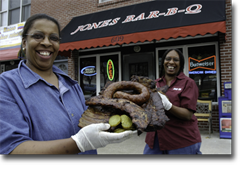 "We're not trying to compare ourselves with anybody or compete with anybody. It's just a style of our own. It's just Jones style," said Deborah Jones Thompson. Deborah and her sister, Mary Jones, make a great team with Deborah taking care of the pit and Mary taking care of the customers - Mary's smile lights up the room, and Deborah's barbecue lights up the faces of their Kansas City customers. "If you can't feel the love when you come in that door, then I don't know what to tell you," Mary said. "That smile and that love I have is just all up in the air. Her love is shown through that plate. That's her part of the love." she added. "Barbecue is an art. And I must say, my sister is very good at that art."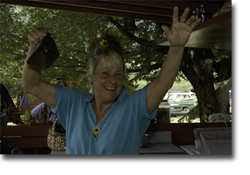 KK's BBQ, located at the Rancho Del Rio Resort on the banks of the Upper Colorado River, is known for it's barbecued beef ribs, its many bells and the owner, chief cook and bell ringer Karen Gravenhorst who is better known as KK. "We just deal with the basics. No fancy stuff, but it's good chow," KK said. "My dream all my life was to have a little five-stool diner," she said "I never expected this all to happen and I sure as hell didn't expect to do it for 20 years," she added. It's been a wonderful thing." KK's is open Saturdays, Sundays and Mondays between Memorial Day and the last weekend in September.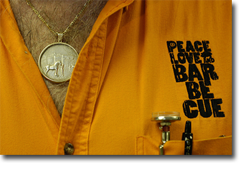 Known throughout the BBQ world simply as "The Legend," Mike Mills and his Apple City Barbecue Team is the only three-time Grand Champion of the Memphis in May Barbecue Competition. "I barbecued all my life. I've learned from a lot of people and I've helped a lot of people," Mills said. He is well known for his willingness to share his knowledge of barbecue, and has helped many people get into the barbecue business. He also co-authored the book, Peace Love and Barbecue, along with his daughter Amy, which shares stories and recipes of bbq pitmasters from around the country.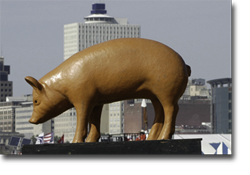 "It's the largest pork barbecue contest on the planet," said Memphis in May executive vice president, Diane Hampton. Also known as the "Superbowl of Swine" and the "College of Pig Knowledge," the event is held on the third Saturday in May each year on the banks of the Mississippi River at Tom Lee Park in Downtown Memphis. Barbecue competitors and enthusiasts come from all over the world to participate in the annual event, one of the biggest and best known bbq competitions held each year.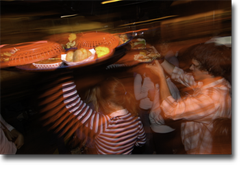 The Dinosaur Barbecue is as well known for its front of the house staff as it is for its bbq. The waitresses, bartenders and hostesses are famous for being a little bit "edgier" than your average server. "I've come to believe there's an urban myth about some of our servers," said owner John Stage. "Basically we've got a good bunch of people and they're great at what they do. They're real and they're fun and there's no script for them to follow."

Former United Methodist Church Minister Oscar Poole, changed careers to start Col. Poole's Georgia BBQ Inc. in East Ellijay, GA. Dressed in his yellow suit, and playing the piano for his customers, Oscar Poole has become widely known for his eccentricities as well as his barbecue. From the creation of his "Pig Hill of Fame" in back of his restaurant, to his "Pigmobile," Poole says that at the age of 75, he is just trying to have fun. "you ever hear that song Brighten the corner where you are," he asked. "Well, I'll just tell you I got this yellow suit on and I go over in the corner and brighten the corner where I am."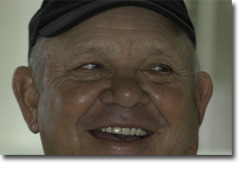 Jackie Hite has been working in the barbecue business for 55 years beginning as a ten-year-old when he helped his father cook whole hogs. He says people love the smell of hickory wood coming from the pits at his restaurant, in Batesburg-Leesville, S.C. "You come through here in the night it smells so damn good," Hite said with pride. "People tell me all the time, I can't wait till Thursday night Friday morning to smell your place, that's the best smell you'll ever smelled, that barbeque cooking."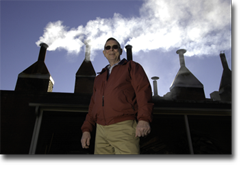 Wayne Monk opened The Lexington Barbecue restaurant in Lexington, NC 43 years ago and had been in the barbecue business for 10 years before that, starting out as a car hop. His brother opened a barbecue stand and it became the Lexington Barbecue #2. "After he sold out, I dropped the #1," Monk said. "But many people still refer to it as the Lexington #1" Aside for some minor changes, Monk said his business is still the same as when he opened. "We're still in the past but I like that. That's the way I want to live my life. I'm still back in the 50s and 60s and I really don't want to change"
Every year, The James Beard Foundation honors "America's Classic" restaurants. "Each is a restaurant with timeless appeal, beloved for quality food that reflects the history and character of its community." In 2003 the foundation gave the award in the Southeastern category to The Lexington #1 (above) and The Skylight Inn (below) - the only time that award was shared according to a foundation spokesperson.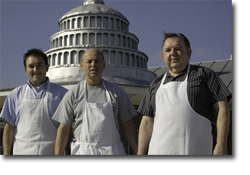 The Jones Family has been cooking and serving up Eastern N.C. style bbq (whole hog) in the Ayden, NC area since the 1800s! And at The Skylight Inn, they continue to prepare their barbecue the same way their ancestors did. "We believe if it's not cooked on wood, it's not barbecue," said co-owner Jeff Jones. "And we believe if you don't use the whole hog, from the head to the tail, it's not barbecue." Busy lunch and dinner crowds at the restaurant are handled quickly because there are only three items on the menu - Barbecue, coleslaw and cornbread. They also round their prices off to the nearest quarter (taxes included) and operate without the use of a cash register.